Satsang Orientation Session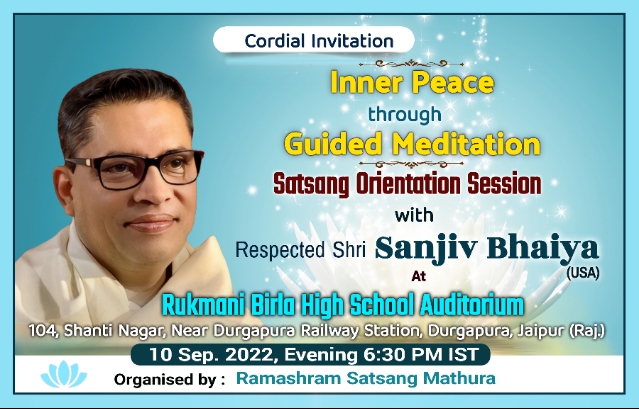 Join 'Satsang Orientation Session' to learn more about meditation and understand what is Satsang, a guided meditation process that helps you Open your heart to light and love. This session will introduce you to an ancient practice of meditation. It is designed for beginners and advanced practitioners alike. There is a focus on explaining the process and how to learn and practice. These sessions always include 20 to 30 minutes of meditation on light. Join us and benefit from this simple, effective, and modern path to an enlightened, stress-free, healthy and peaceful life. This practice will refresh your energies, calm your mind, while developing an ability to manage stress, increase self-awareness and reduce negative emotions. It also improves concentration and helps you to live in the present moment with higher consciousness.
The event's agenda typically looks like this:
| Duration | Table of content |
| --- | --- |
| 0-15 min. | Welcome and Introductions |
| 0-20 min. | Core Concepts: Orientation Topic (Details; Examples; Stories) |
| 21-25 min. | Core Practice: Instructions (How to meditate) |
| 26-35 min. | Core Practice: Prayers (Transition-in) |
| 36-50 min. | Core Practice: Meditation (In Silence) |
| 51-55 min. | Core Practice: Prayers (Transition-out) |
| 56-60 min. | Wrap-up: Takeaways (Summary; Sign-off & Next session) |
| +15 min. | Q&A |
Inner Peace (Core Concept for this Orientation Session)?
Join us on 10 Sept. 2022, Saturday 6:30 pm IST
Check out Inner Peace through Guided Meditation on
Meetup: https://www.meetup.com/Inner-Peace/