Ziya Ashraya Public School
Unconditional service (Sewa) is one of the core tenets of Ramashram Satsang Mathura. RSM encourages service particularly when it comes to helping the weaker sections of society help themselves. Education is one of the best ways to enable others.
Ziya Ashraya Public School is located near Hajipur in Chakmakrand village in the state of Bihar, India. It has an objective to impart education to all and especially to the underprivileged despite all odds and economic constraints. This school has been in operation 2004. For the part 14 years it has been teaching students up to middle school level. As of now 183 students are enrolled in the school.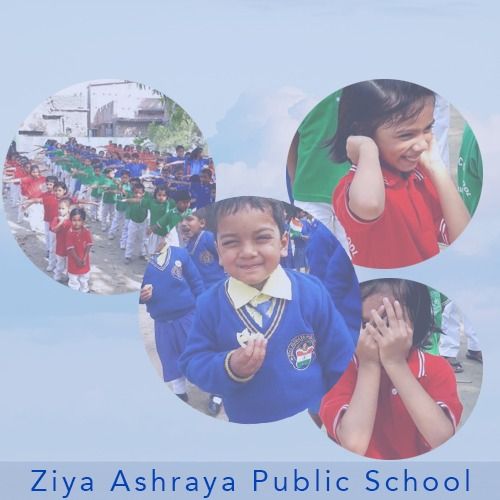 About 56 of these students receive free education and 23 students are on a concession fee. To ensure that students do no drop off after middle school and continue to high school Ziya Ashraya Public School now plans to expand into high school education. To do that they need to get affiliated to an educational board. Affiliation to these boards require certain norms and facilities. While the school has plenty of land and playground, the concession in education fee makes it difficult to provide good facilities. Facilities that we take for guaranteed are missing or limited. To get affiliated to a high school board this school urgently requires an upgraded
Science laboratory
Computer lab
Library
Being located in a village it faces challenges.
Teachers qualified to teach at high school level come at a higher payscale.
School buses to transport students from other villages cost money as public transport is limited in the internal roads.
While the facilities are missing the spirit is not. The relentless efforts of the Principal, Nutan Singh and the staff to provide the students the best under any circumstances so that they can excel brings joy and smile to the faces of the children.
Guru Maharaj was a doctor qualified in all alternative medicines – Ayurveda, homeopathy, naturopathy and yoga. He believed that 'health is a virtue given by God and it is our duty to respect the virtue and take care of our health'. Focus and concentration are the key elements of spiritual and even material well-being. These come with good health. Meditation is possible on in good health.
Homeopathic treatment works on the premise that the body can cure itself with a little bit of natural substances that come in the form of minerals procured from plants and herbs. It is meant to trigger the body's natural defenses. Homeopathy is very effective in treating ailments like common cold, allergies, rheumatoid arthritis, depression, minor cuts and bruises and much more. It's very popular in Europe and India but not much in the US.
It is a preferred mode of treatment especially among the underprivileged because of its low cost, customized treatment and easy access to medicines and a doctor.
Guru Maharaj practiced alternative medicine professionally. He was exceptionally qualified. He also gave treatment to all irrespective of cost. He called it his 'sewa' (unconditional service) to society and humanity at large.
Taking the spirit forward in the year 1996, Dr Narendra Kumar Ji (affectionately called Chote Bhaiya by his disciples because he was the youngest son of Guru Maharaj) established the 'Paramsant Dr. Chaturbhuj Sahay Charitable Homeopathy Clinic' on May 3rd 1996.
Since then this clinic has been running regularly under qualified homeopathy doctors. The footfall to the clinic on an average is between 50 to 150 patients depending upon the season.
There is a nominal fee of less than a cent. 5 times a year, even that nominal fee is not charged.
Almost 100,000 patients have been treated free of cost at these clinics.
The clinic is running under the patronage of late Suraj ji, Chand ji, their sons and their extended families.
Ramashram Satsang Mathura would like to extend these services to other areas.
The vision of this trust is to provide economic assistance to poor and old widows and deserving students who want to pursue their studies in the fields of
Philosophy

Yoga

Sciences

Engineering

Medical sciences
This scholarship is applicable for a year, after which deserving students are assessed at the end of each year. He / She may reapply if so desired to continue the scholarship. The maximum scholarship period is for 3 years. Applications are accepted only twice a year.
Dr.Brijendra Kumar Ji or Bade Bhaiya or Bade Tauji, was known for his spiritual and divine enlightenment. He manifested the virtues of truth, simplicity, love and service in his behavior to one and all, which acts as the primordial force in working of the Trust. The trustees hope to keep running the Trust as per the standards that he set.
Unconditional and selfless service is one of the core tenets of Ramashram Satsang Mathura. "God resides in each one of us, hence service to mankind is service to God". This was the core principle of our Revered PP Dr. Brijendra Kumar Ji, an embodiment of surreal and sublime peace, compassion, kindness and spiritual enlightenment. His heart went out to the underprivileged especially those who had to discontinue their education or are unable to continue their treatment due to paucity of funds. His teaching is that "Howsoever small is the quantum of the service or the period of the service, it should be life changing".
Based on these principles of universal and unconditional love and service, he along with his wife PP Shrimati Vinod Kumari Ji established "Jia Maa Memorial Trust" on July 30, 1985 by donating his entire personal retirement benefit. The trust was named after the universal mother to the entire Satsang family revered as Jiya Maa, an embodiment of divinity, serenity, love and selfless service. 35 years since establishment of the trust, it is working towards the philosophy, vision and direction given by Bade Bhaiya or Bade Tauji as he is affectionately known to the Satsang family. The trust supports the underprivileged children in their academic pursuits enabling them to have better careers. Widows who come from underprivileged families and are too old to work are also supported by Jia Maa Memorial Trust. Patients who cannot afford to continue treatment due to economic reasons are also supported by the trust. Till date more than thousand persons have been benefited from assistance given by the trust.